Hand full of Makers and some big paper.
Sheets of blank paper taller than your thumb and to big for my backpack all screaming at me to get to work. For some reason the tooth and feel of this book is more attractive to me than the super thick and slick Bristol board book, or the 140lb cold press watercolor paper book. I've figured it out… it's the same paper (but way bigger) as my first sketchbooks back when I was at DASH (design and architect senior high) in Miami. Mr. Milanez would hand them out like candy. I would burn through them in a few weeks, chewing them up. Nothing great but I couldn't get over the fact that they just handed you another one.
What's in the bag?
A bag full of markers and this book that reeks of high school made it easier to let go and have fun. I brought this bag with me thinking that I was going to do rock some ill outlines, pieces and fill-in, but I couldn't get that started. Here are some bikes, dogs and other things that did come out.
Inspired by Puck bringing me a squirrel.

Show time teeth, just fun with a red marker on a big sheet of paper.

This is the other dog, PUCK the monster dog.

So many of my pages look like this – Practice Practice Practice.

Tiny dogs stuffed with green tea and frozen pizzas.

Bird riding a big wig (LOL).

Marker and Watercolor.

Catching fire flies.

Hair play, lots of pins.

Fun with hair and an orange marker.

Birds eggs have hatched, mom is feeding baby. The orange maker has made friends with some blue and yellow markers.

Binge watching season one of Stranger Things, Hi Mike.

The bunnies are just short legged corgis who like to curl up in cozy blankets.

Who dis?
Why using crappie materials could be a good thing.
Drawing on kinda crappie and large paper changes something. I think it's the need to 'finish' that usually comes with larger formats. That feeling is gone. Another weird thing, the markers which are great for filling in large areas felt limited on this large format. I would fill the whole page with color in my 8×10 black book (ask me to show you). So line work became super important. I tried incorporating washes but the cheap paper didn't like that. So line work is king!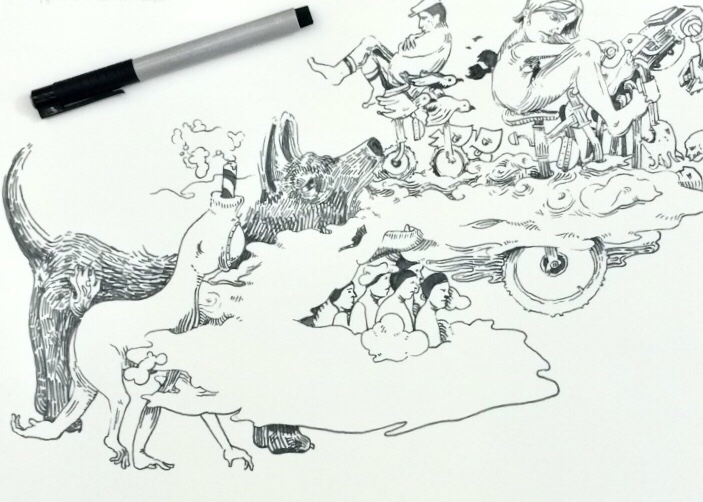 Lesson learned.
I'm still learning that I have lots of hang-up. Getting free and removing myself from the work is going to take a minute, it was easier with this book. The more I work, the more I understand (maybe). I need to practice F$#king up stretched canvases. Media surface shouldn't hinder the work, but stretched canvas vs found cardboard influences my work in profound ways. Similar to working on post-it notes.